40th Annual Conference
~ COURAGE & COMPASSION ~
June 1-3, 2022
Hamilton College

---
---
May 31, 2022
Hi everyone,
CCNY starts tomorrow, Wednesday, June 1, with our Mark Nepo pre-conference! That will be a great way to kick off our first in-person gathering in three years, and I know I'm looking forward to sharing space with all of you. So glad you're attending.
You can find here a conference map with parking information, and the buildings we will use for the conference.  Also I have a request below for any super fans of David Wilcox or Jericho Brown to identify themselves. If there are other questions like parking that you need answered as you find your way to Hamilton College, please reach out!
Wednesday Pre-Conference Parking: Please use Kennedy Center Lot for most convenient access. After parking, you'll be heading to Kirner-Johnson (KJ) for registration and the pre-conference.
Thursday and Friday Parking: The most convenient parking for Thursday is Dunham Lot. On Friday, the Kennedy Center Lot will be most convenient. After parking on Thursday, you'll be headed to the Events Barn. On Friday, you'll be headed to KJ.
No parking pass is needed. In the extremely unlikely event that you get a campus ticket, just give it to me and I'll take care of it! We have a lot of guests on campus this week so I doubt tickets will be given out.
Any super fans of David Wilcox or Jericho Brown? If you have a question you'd like to ask, there will be a short time for Q&A. But if you'd like me to work your question into the main program, or are just a super fan, please shoot me an email. David, Jericho, and Mark will all have some books or CDs available if you want to buy one and have it signed.
It will be so wonderful to see everyone in person again. Aside from a hot Wednesday, we should have good weather for using outside spaces if anyone needs a little more breathing room- literally! And we encourage the use of masks and will have color-coded stickers to indicate your preferences around physical contact. Let's stay safe and enjoy each other!
Travel safe, and see you soon.
David
---
| | |
| --- | --- |
| Mark Nepo will be presenting our pre-conference, focusing on how we sustain ourselves in this work and how we make the work more nourishing. Mark is a poet and author of over two dozen books, including the New York Times #1 bestseller "The Book of Awakening". Mark was selected by Oprah as part of her "SuperSoul 100", and has appeared with her many times on television and on tour. We've worked closely with Mark to develop this pre-conference workshop and it will be a time for renewal after a very hard couple of years. | |
| Jericho Brown will be one of our "Keynote Conversations". Dr. Brown is a poet and professor at Emory, where he is the Director of the  Creative Writing Program. Jericho is also the recipient of many awards, including the 2020 Pulitzer Prize in Poetry. His latest book is "The Tradition", which is a collection of exquisitely beautiful and innovative work focused on violence, tenderness, Blackness, Queerness, and cultural crisis. Jericho "interrupts complacency by locating each emergency in the garden of the body, where living things grow and wither- or survive". We have been working with Jericho to give life to a conversation about healing, grace, wholeness, and our own survival in this discipline. This will be a powerful and energizing conversation! | |
| David Wilcox will be one of our other "Keynote Conversations". David is three decades into a career as a singer-songwriter with over 20 albums that articulate the mystery of being human. He tells stories full of heart, humor, and hope. David understands the importance of mental health and the power of healing, noting "I have a life that feels deeply good, but when I started playing music nothing in my life felt that good. I started to write songs because I wanted to find a way to make my life feel as good as I felt when I heard a great song. I don't think I'd be alive now if it had not been for music." David really gets mental health, and he's eager to connect with us through songs and conversation about the power of expression and human connection. | |
---
A new poem by Mark Nepo
ANTHEM
Yes, you fell down.
I feel for you, for I have
fallen many times.
Now, you must get up.
I know it isn't easy.
I know it will take time.
Remember, the seed
can't imagine breaking
ground. And the fledgling
can't imagine flying.
And so, your broken heart
can't imagine finding its way.
But life is this repeating journey
from sleep to wakefulness,
from blindness to sight,
from fear to love.
No matter how many times
we fall, we are just beginning. 
---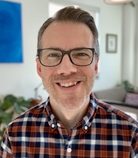 David Walden, Ph.D.
Director, Counseling Center
Johnson Center for Health & Wellness
Lecturer, Department of Psychology
Hamilton College
198 College Hill Road
Clinton, NY 13323
Telephone: 315-859-4340
Fax: 315-859-4046
dwalden@hamilton.edu