40th Annual Conference
~ COURAGE & COMPASSION ~
June 1-3, 2022
Hamilton College

---
---
Colleagues,
The beautiful sunny day today brings promises of what's to come. One of those things to come is the 40th Annual CCNY Conference! The theme for this year is Courage & Compassion, and the conference will be held from June 1-3 at Hamilton College. Please save the date and plan on attending- we have some truly special programming planned that you won't want to miss (more below!).
Part of what makes CCNY so magical is your contribution in the form of programs. Please consider submitting a proposal using the attached form- the deadline is April 29. Any and all program topics are welcomed! This is a great space to present whether you're a veteran presenter or a new to conference presentations. Your presentations will be joining three very special presenters this year for our pre-conference and two keynote conversations. We're fortunate to have the following folks coming to CCNY:
| | |
| --- | --- |
| Mark Nepo will be presenting our pre-conference, focusing on how we sustain ourselves in this work and how we make the work more nourishing. Mark is a poet and author of over two dozen books, including the New York Times #1 bestseller "The Book of Awakening". Mark was selected by Oprah as part of her "SuperSoul 100", and has appeared with her many times on television and on tour. We've worked closely with Mark to develop this pre-conference workshop and it will be a time for renewal after a very hard couple of years. | |
| Jericho Brown will be one of our "Keynote Conversations". Dr. Brown is a poet and professor at Emory, where he is the Director of the  Creative Writing Program. Jericho is also the recipient of many awards, including the 2020 Pulitzer Prize in Poetry. His latest book is "The Tradition", which is a collection of exquisitely beautiful and innovative work focused on violence, tenderness, Blackness, Queerness, and cultural crisis. Jericho "interrupts complacency by locating each emergency in the garden of the body, where living things grow and wither- or survive". We have been working with Jericho to give life to a conversation about healing, grace, wholeness, and our own survival in this discipline. This will be a powerful and energizing conversation! | |
| David Wilcox will be one of our other "Keynote Conversations". David is three decades into a career as a singer-songwriter with over 20 albums that articulate the mystery of being human. He tells stories full of heart, humor, and hope. David understands the importance of mental health and the power of healing, noting "I have a life that feels deeply good, but when I started playing music nothing in my life felt that good. I started to write songs because I wanted to find a way to make my life feel as good as I felt when I heard a great song. I don't think I'd be alive now if it had not been for music." David really gets mental health, and he's eager to connect with us through songs and conversation about the power of expression and human connection. | |
These are some really special presenters and I encourage you to attend so that you can spend time with them. Please submit program proposals and block off June 1-3! More details to come in early April on accommodations, registration, and schedule.
Please consider attending. This has felt like an incredibly challenging year and wherever you've found yourself in the joys and sorrows of life and working in mental health in higher education, you could probably use some connection, fun, and time to reconnect with the reasons why we do this work. We will have some great presenters, programs, live jazz music, drinky drinks, Gelato from Clinton's own The Cremaria, and time to be together.
With love,
David
---
A new poem by Mark Nepo
ANTHEM
Yes, you fell down.
I feel for you, for I have
fallen many times.
Now, you must get up.
I know it isn't easy.
I know it will take time.
Remember, the seed
can't imagine breaking
ground. And the fledgling
can't imagine flying.
And so, your broken heart
can't imagine finding its way.
But life is this repeating journey
from sleep to wakefulness,
from blindness to sight,
from fear to love.
No matter how many times
we fall, we are just beginning. 
---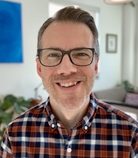 David Walden, Ph.D.
Director, Counseling Center
Johnson Center for Health & Wellness
Lecturer, Department of Psychology
Hamilton College
198 College Hill Road
Clinton, NY 13323
Telephone: 315-859-4340
Fax: 315-859-4046
dwalden@hamilton.edu